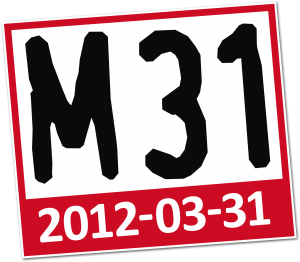 This Saturday, March 31st, there will be simultaneous demonstrations, rallies and assemblies in many European cities. Protests have been organized by anti-capitalist groups and libertarian grassroots unions from all over Europe. The initiative is labeled "M31 – European Day of Action against Capitalism". Members of M31 want to send a clear signal against current austerity policies and authoritarian labour reforms by national governments and the Troika (EU, ECB and IMF) on the backs of wageworkers, migrants and the unemployed. In their Call for Action, M31 groups state: "We don't want to save capitalism, we want to overcome it."
M31 protests will take place in these cities: Porto (Portugal); Madrid, Toledo, Bilbao, Zaragoza, Murcia, Badajoz, Aranjuez, Castro Uridales (Spain); Besancon, Bayonne (France); Utrecht (Netherlands); Frankfurt/Main (Germany); Vienna (Austria); Modena (Italy); Warsaw (Poland); Kiev (Ukraine); Ljubljana and other cities (Slovania); Zagreb (Croatia); Athens, Thessaloniki (Greece). In solidarity with M31, groups of Occupy Wall Street will hold a rally in New York (USA). Parallel to M31, anti-capitalist groups in Moscow and in many cities of the United Kingdom will take to the streets against neoliberal labour reform. Check the M31 update for details.
Our transnational initiative marks a new level of cooperation of the anti-capitalist left in Europe. We counter nationalist campaigns within the EU against Southern European countries and wageworkers. We get active against the increasing militarization of the European borders. We try to develop a perspective of transnational self-organization against austerity measures. All in all, this Day of Action is just the beginning of a continued struggle. More protest actions are already being organized.
In Germany, the main event on March 31st will be an anti-capitalist and anti-national demonstration in Frankfurt/Main (2 pm, Main Station). A broad alliance of leftist organizations from all over Germany have registered their support. In many cities, busses to Frankfurt have been organized. Speakers will address different aspects of capitalism and its crisis: gentrification, harsh labour reforms, nationalist politics of migration and deportation, and the like. In the course of the demonstration, the European Central Bank will be visited. Organizers expect a good turnout.
For further information, check our multilingual homepage: march31.net
To get in touch:
 eMail: m31-press@riseup.net
 Phone: +49 163 71 53 714