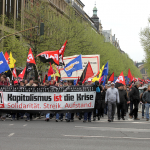 PRESS RELEASE [French version below]
6,000 people at European Day of Action against Capitalism / Organizers criticize police violence and mass arrests
Frankfurt. In a demonstration associated with the europe-wide anti-capitalist day of action "M31″, 6000 people demonstrated against the neo-liberal and authoritarian crisis policies of the EU. Parallel demonstrations and rallies were held in over thirty European cities, including Madrid, Athens, Milano, Zagreb, Vienna, Utrecht, Moscow and Kiev.
In speeches and greetings, the dramatic impact of current crisis policies in different European countries were discussed. Speakers of the M31 network saw today's actions as a first step to link anti-capitalist protest internationally.
During the demonstration, paint bombs and stones were thrown at the headquarters of the European Central Bank (ECB), the center of the city police and employment agencies. Under the pretext of determining "some suspects", police split off and encirceled one third of the demonstration at Allerheiligentor, using batons and pepper spray. Several people were injured, some significantly. Due to this disproportionate interference, the entire demonstration was blocked for one and a half hours, and its continuation was made virtually impossible. Subsequently, the demonstration – which was originally supposed to draw to the site of the new ECB headquarters – was dissolved in Frankfurt's Ostend. More than 200 demonstrators were rounded up for more than 6 hours on the street. Lawyers were denied contact with those kettled. A spokesperson of the M31 alliance rated these police measures as "manifestly unlawful".
After the demonstration was dissolved, hundreds of demonstrators marched through downtown Frankfurt. Some militant actions were directed at office and commercial buildings, including the Frankfurt town hall and the employment agency.
Leo Schneider, spokesman for the M31 Alliance, commented: "In Frankfurt, we sent a clear signal against current German and European politics of crisis regulation. This crisis policy aims to restore the competitiveness of European capital, on the backs of wageworkers. Because of a few broken windows, the police brutally attacked our demonstration, injured dozens and arrested two hundred demonstrators. Given the brutal impact of current austerity measures for the people of Europe and the world, this is absurd. Those militant protests were directly aimed at institutions that stand for neoliberal crisis regulation and intensified exploitation. As the reaction of demonstrators showed, these attacks on our demonstration will not break our resistance."
. . . . . . . . . . . . . . . . . . . . . . . . .
M31 / Manifestation anticapitaliste à Francfort (31 mars 2012)
6000 manifestants lors de la Journée européenne d'action contre le capitalisme / Les organisateurs critiquent la violence policière et les arrestations massives
Francfort. Lors d'une manifestation fédérale [nationale] organisée dans le cadre de la journée d'action anticapitaliste "M31" à l'échelle européenne, 6000 personnes ont manifesté contre les politiques néo-libérales et autoritaires de gestion de la crise de l'Union Européenne. Des manifestations et des rassemblements simultanés ont eu lieu dans plus de trente villes européennes, dont Madrid, Athènes, Milan, Zagreb, Vienne, Utrecht, Moscou et Kiev. Lors des prises de parole et des salutations, l'impact dramatique des politiques actuelles de la crise dans les différents pays européens ont été discutés. Les orateurs du réseau M31 ont considéré les actions d'aujourd'hui comme une première étape pour établir un lien entre les protestations anticapitalistes au niveau international.
Lors de la manifestation, des bombes de peinture et des pierres ont été lancées sur le siège de la Banque centrale européenne (BCE), le centre de la police de la ville et les agences de travail temporaire. Sous le prétexte d'identifier "quelques suspects", la police a séparé et encerclé le dernier tiers de la manifestation sur la place Allerheiligentor, en faisant usage de matraques et de gaz au poivre. Plusieurs personnes ont été blessées, dont certaines de manière significative.
En raison de cette intervention disproportionnée, la manifestation a été entièrement bloquée pendant une heure et demie, et sa poursuite a été rendue pratiquement impossible. Par la suite, la manifestation – qui à l'origine devait atteindre le lieu du nouveau siège de la BCE – a été dissoute dans l'Ostend de Francfort. Plus de 200 manifestants ont été arrêtés par encerclement dans la rue pendant plus de 6 heures. Le contact avec les encerclés a été refusé aux avocats. Un porte-parole de l'Alliance M31 a qualifié ces mesures de police de "manifestement illégales".
Après la dissolution de la manifestation, des centaines de manifestants ont défilé dans le centre-ville de Francfort. Certaines actions militantes ont été réalisées en direction d'immeubles commerciaux et de bureaux, y compris l'Hôtel de ville de Francfort et l'agence pour l'emploi.
Leo Schneider, porte-parole de l'Alliance M31, a déclaré : "A Francfort, nous avons envoyé un signal clair contre les politiques allemande et européenne de régulation de la crise. Cette politique de gestion de la crise vise à restaurer la compétitivité du capital européen, sur le dos des travailleurs salariés. Sous prétexte de quelques vitrines brisées, la police a brutalement attaqué notre manifestation, a blessé des dizaines de personnes et arrêté deux cents manifestants pendant des heures. Ce qui est absurde compte tenu des conséquences brutales de mesures d'austérité actuelles pour les peuples d'Europe et du monde. Ces protestations militantes ont visé directement les institutions qui se distinguent dans la régulation néo-libérale de la crise et l'intensification de l'exploitation. Comme les réactions des manifestants l'ont montré, cette attaque contre notre manifestation ne brisera pas notre résistance", a conclu Leo Schneider.